Best Made in USA Long Sleeve Shirt from Polartec Power Dry
$

9.99 On Sale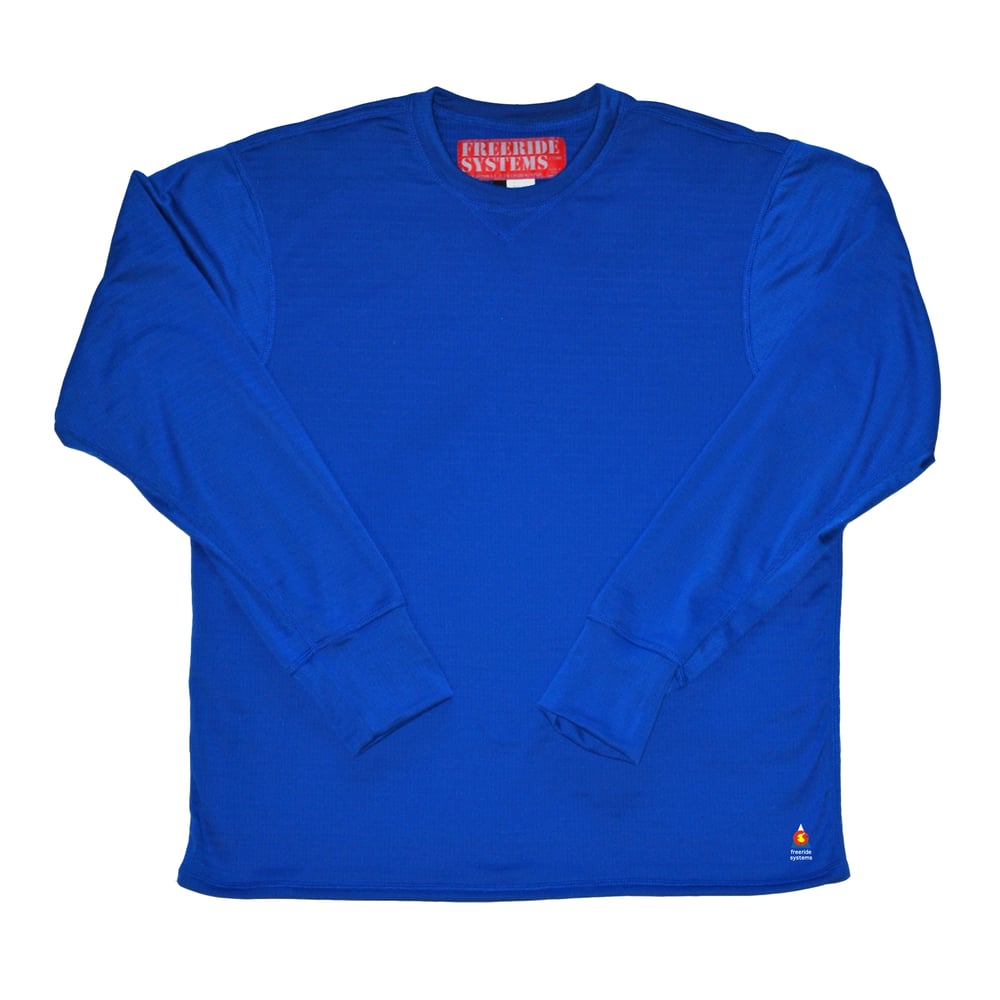 Women's Only blow out ~ Men could wear this as a fitted shirt ~ cut the sleeves off ~ flex the biceps ~ or for your kids!
Someone told us the armholes and cut on the Women's shirts was weird, so we took them off the website. Now, we are just going to blow them out for $9.99.
Cut the sleeves off and have a cool tank power dry tee and flex those biceps. Men
This is probably the best made in USA base layer ( all things considering ) available in the market place today. Made in Colorado, USA
Click Here for Important Must Read Washing instructions
Breathable / Wicking / Fast Drying
100% Polyester Power Dry fabric made in USA from Polartec the leader in specialized polyester knits
Color: Surf Blue with ribbed exterior texture
Interior consists micro grid rectangular sweat absorbing technology buttons
Special 4 inch Gauntlet cuffs add special warmth to veins traveling on inside of wrist which add special warming tendencies. If too warm, simply push the cuffs up to your elbows and wear as short sleeve
Gauntlet Cuff also excellent for preventing "Glove Gap" during Winter activities
This is the perfect layer to wear with our mid layers and jackets for a complete Winter package for your top torso
Just the right weight to wear as a stand alone or under other garments
You will feel the warmth properties without the weight and heavy sweaty feel
Perfect for hiking, biking, skiing, riding, sledding, telemark, and more activities
A XL fits a 6'+ tall person with 43" chest 36' waist, 36" arms with ease
If you're arms are shorter, no worry as the cuffs will keep the arm length from extending past the top of your hand
Thinner than example, no problem, this shirt has stretch and comes in a tighter form that expands with first wearing, so if you are thinner, the shirt will not expand with first wearing
We also have a TALL version coming soon
Will oil with frequent machine washing. Best to wash cold by hand in bucket and line dry if you want to avoid pilling. If you don't care, then machine wash
Please scroll to bottom to see all 4 pictures
Men's Size chart
M/L/ XL/ 2X
Chest 38-40/ 42-44/ 46-48/ 50-52
Sleeve Length 34 /35/ 36/ 37
Waist 31-33 /34-36/ 37-40 /42-44
TECHNOLOGY
The technology used to control moisture is the highest priority for base layers and next-to-skin surfaces. Sweat and moisture vapor must be in a constant state of flux to ensure the fabric doesn't become saturated and lose performance characteristics.
This is why Polartec® Power Dry® is engineered with our patented bi-component knit construction to enhance drying capabilities across the entire fabric structure. This dual surface approach maximizes performance by mechanically wicking sweat and vapor off your skin and directly transferring it to the outer surface where it diffuses for quick dry times.
Availability
Womens XS

Womens Small

Sold Out

Womens Medium

Sold Out

Womens Large

Sold Out
Share